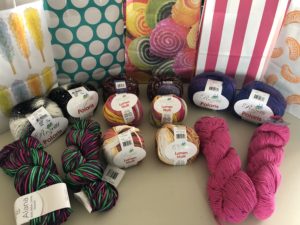 You will receive 2 skeins of 3 different kinds of specialty yarns.  
Mixed weights.  
Yarns are randomly selected for each bag.  
Rozette "Polaris" , Lumen Multi,  Universal "Felicity" and Isaac Mizrahi yarns.
Retail Value is $25.95 or higher
Sale Price is $ 9.95
plus $7.95 Total $17.90 USA Only!
Complete SOW instructions are always free and available for immediate download.  Please stop by our stitch of the week page and peruse through all the beautiful stitches available.
Video tutorials available for all stitches.
Creative Grandma offers exclusive patterns by Glenda Winkleman. Pattern purchases are for a virtual downloadable patterns.  You will receive the purchased pattern by way of link, email and/or have access to the document in your Creative Grandma account.
If for any reason you do not have access to your pattern within 24 hours of purchase please contact us at contact@creativegrandma.net
Creative Grandma offers Crochet Kits with limited quantities while supplies last.
Please stop by our Shop and look through the kits available today.
The available kits are always changing so please be sure to check back often.